In partnership with ETSY
WATCH FROM VINYL RECORDS (LPS)
In our catalog of 827 templates!
Vinyl records are very strong plastic. It is well processed and looks great.
We offer you a large number of options for hours on any subject, and also give you the opportunity to get the desired watch under the order in the individual performance, that is, to develop you personalized, greeting, fashion watches that will only have You.
PRICE SHOULD BE IN THE ORIGINAL PACKAGING FROM OUR TEMPLATES ONLY USD!!!
WORLDWIDE SHIPPING IS FREE!!!
This price includes a cut-out clock with your chosen dial, clock mechanism with suspension, a set of arrows of the desired color, instructions and packaging with sealing foam. Sending is made in a branded bag with protective stickers.
We can pack the watch in a gift box and put there a business card with your congratulations for only 3 USD and send to the address you specify without investing our advertising!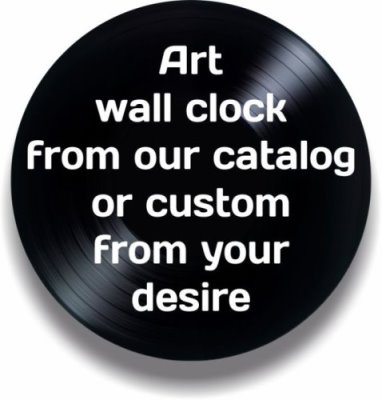 THE INDIVIDUAL VERSION
Completion of hours according to your desire from templates (addition of an inscription, figures, a logo, etc.) +3 USD
Adding numbers second layer on the contour + 5 USD
Development and production of hours "from scratch" from + 5-12 USD (from the detailed description, from drawing, an example, a photo)

OUR TEMPLATE

ATTENTION: the center and hands on the templates are given as an example. When ordering, you need to choose from the above.